We are proud to be voted one of the 2021 Best Places to Work by the North Bay Business Journal for the 13th consecutive year! Being a recipient validates what our shareholders work so hard to do – provide growth opportunities, access to education, flexibility to manage personal lives, and create a work environment where people feel good about the contributions they make to client's lives.
We are thankful to have a team that comes together in a time of need and does what is in the best interest of our clients. "I tell people often that our main competitive advantage is the people on our team! I truly feel that our team is better equipped with experience, technical insurance knowledge, and willingness to work hard and do what's right for our clients than the agencies we compete against" says Robb Daer, Chief Operating Officer.
Thank you to our employees for voting us 2021 Best Places to Work!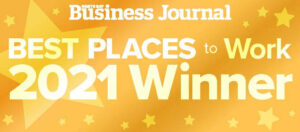 See all the 2021 Best Places to Work
winners here.
Whether you're looking to protect your family, home or business, we have the experience you're looking for.