Community associations face a unique set of challenges when it comes to insurance. With a client roster that includes more than 150 community associations (and nearly $1 billion in association property insured), our team of insurance professionals are well-versed in HOA exposures and coverages. Our direct access to a wide range of insurance carriers and specialty HOA programs allow us to provide your association with comprehensive and competitive insurance solutions.
we are a proud member of: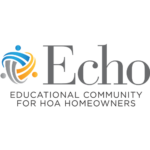 As your partner in business, we are committed to doing our part to help your business thrive. That is why provide vital business services, without passing any extra costs onto you.
The loss control team provides valuable safety and human resources guidance. From OSHA protocol assistance, facilitating required training, to answering complex HR questions. They work with clients and their employees to assist in reducing injuries and increasing compliance, with the ultimate goal of reducing losses in the workplace.
Common Coverages for Community Associations
General Liability
Directors & Officers
Umbrella / Excess Liability
Workers' Compensation
Crime / Fidelity
Volunteer Accident
Cyber Liability
Employment Practices Liability (EPLI)
Property
Blanket Building Coverage
Association Owned Personal Property
Building Ordinance or Law (Building Code Upgrades)
Debris Removal
Upgrades & Improvements
Earthquake & Flood
Outdoor Property
Trees, Shrubs, Landscaping
Sewer & Drain Back Up
Equipment Breakdown
We don't work for an insurance company; we work for you. By earning the confidence and respect of our customers, we build lasting relationships as part of their decision-making team. Ultimately, this approach results in a client retention rate that is consistently over 95%, one of the highest in the industry.
Giving back to the communities that our employees and clients live in is an important part of our philosophy. See what we are doing to keep our communities thriving.
We take pride in providing our employees a great place to work and providing top level service to our clients. We are honored when others recognize these efforts, take a look at some of the recognition we have received.
Whether you're looking to protect your family, home or business, we have the experience and expertise you're looking for.