With over 85 years of experience helping our customers protect their business, we have learned that every client benefits from a consultative, customized approach that takes into account the unique characteristics of the business, it's exposures and it's evolving needs. From a comprehensive insurance plan, to an array of services provided by our in-house professionals in the areas of Workers' Compensation, Human Resources and Safety & Loss Control.

Your business is unique, your insurance should be too - that is why we have developed industry-specific programs and departments.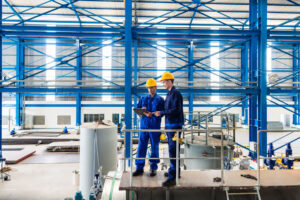 The loss control team offers valuable safety and human resources guidance. From OSHA protocol assistance, facilitating required training, to answering complex HR questions. They work with clients and their employees to assist in reducing injuries and increasing compliance, with the ultimate goal of reducing losses in the workplace.
George Petersen represents over 300 financially strong, reputable insurance companies. As independent agents, we have several insurance companies that we can approach to get you coverage at a competitive price. With a long history of advocating for our clients, we work on your side when you have a loss and follow through to see that you get fair, prompt payment and service.
Our in-house bond department can provide you with the bonds you need to support your operations, including:
Contractors License Bonds
Permit Bonds
Performance Bonds
Wine Bonds – All States
Fidelity Bonds
Carwash Bonds
DMV Bonds
Farm Labor Bonds
We don't work for an insurance company; we work for you. By earning the confidence and respect of our customers, we build lasting relationships as part of their decision-making team. Ultimately, this approach results in a client retention rate that is consistently over 95%, one of the highest in the industry.
Giving back to the communities that our employees and clients live in is an important part of our philosophy. See what we are doing to keep our communities thriving.
We take pride in providing our employees a great place to work and providing top level service to our clients. We are honored when others recognize these efforts, take a look at some of the recognition we have received.
Whether you're looking to protect your family, home or business, we have the experience you're looking for.