George Petersen Insurance Named 2022's Best Insurance Brokerage by Northbay Biz Readers
Thank you to the Northbay Biz Readers for voting George Petersen Insurance the Best Insurance Brokerage for the 10th year in a row! Over the last 10 years the insurance marketplace in California has shifted significantly due to the increased risk of wildfires. As a trusted partner, we continually strive to provide our clients with the best service at a fair and reasonable price. While the latter has been a difficult task, it "makes this win feel better than past years even though we are delivering bad news to our clients, they still support us.
Thank you again to our clients and Northbay Biz Readers!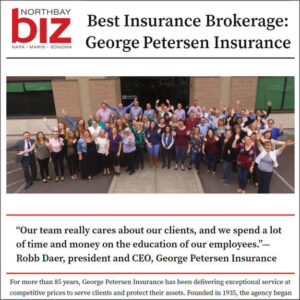 Read the full article here.
Whether you're looking to protect your family, home or business, we have the experience you're looking for.